Contact Us
Company Name:
Shandong Vinson Machinery CO., Ltd
Contact Person: Vinson Sun
Tel:

86-535-6511737




+8618561015220

Fax: 86-535-6513072
Email: info@vinsondrive.com
Address:
No.55-3, Zhichu Road, Zhifu District, Yantai City, Shandong China
High quality parallel shaft gear reducer
Products description:
parallel shaft gear reducer

ZLY Two-stages Cylindrical Gear Reducer
Power: 38~240 Kw
Transmission Ration Range: 1.25~500
Output Torque: 1500~400000 N.m
Output Speed: 38~240 r/min
Characteristics:
1. The gear is made of high strength low carbon alloy steel through carburization and quenching. The hardness of tooth surface may reach to HRC58‐62. All gear adopts NC tooth grinding process, high in accuracy and good in contact performance;
2. Highly transmission efficiency: single stage, more than 96.5%; double‐stage, more than 93%; three‐stage, more 90%;
3. Smooth and stable in run, low noise;
4. Compact size, light weight, long service life and high load capacity;
5. Easy to disassemble, inspect and assemble.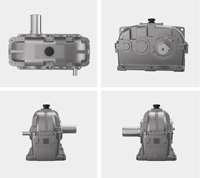 Main Models:
ZLY112, ZLY125, ZLY140, ZLY160, ZLY180, ZLY200, ZLY224, ZLY250, ZLY280, ZLY315, ZLY355, ZLY400, ZLY450, ZLY500, ZLY560, ZLY630, ZLY710
Application:
This product is widely applied to fields of metallurgy, mines, hoisting, transportation, cement, architecture, chemical, textile, printing, dyeing and pharmaceutical etc.
Application Examples:
Belt conveyor drives
Bucket elevator drives
Agitator drives
Hoisting gear drives
Travelling gear drives
Paper machine drives
Dryer drives
Water screw drives
Product Images:
New Products
Relative Keywords
You may also be interested in:
Business Type: